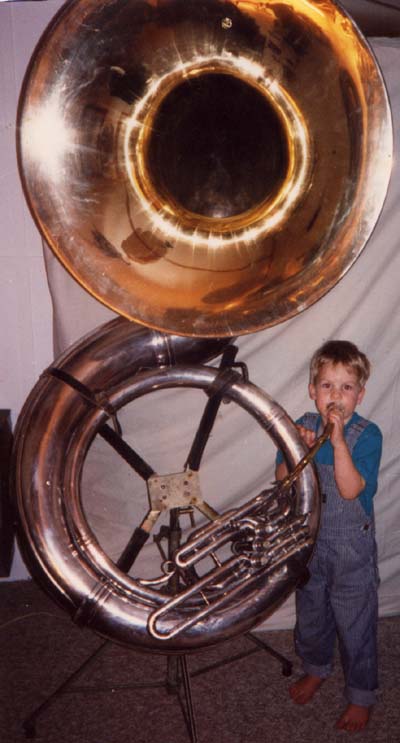 1920s GIANT KING

This huge horn was carried at
the opening day parade at
Disney Land by Clarence Karella.
My guess is that's what eventually
destroyed his back. A real spine killer.
You couldn't stand up in a normal
room with an eight foot ceiling.

The horn was perfect when I got it.
The craftsmanship was sensational.
The way they machined the valve
casings was amazing. What
a great work of art. But...it played
like crap! Even the talented Karella
admitted it. Jim Self tried it and thought
it sucked! And these are guys that know.
I had everything checked on it that
could be checked. It still sounded
so-so. The perfect horn to look at
but not the best player.

It's now at the Museum of Music at
Vermillion, South Dakota (my old
school) . The last time I saw it, a
few years ago, it was still sitting
in the basement waiting to be
unpacked. It will make a great
display. Sadly not much to hear.

By the way, that's Hunter, my
grandson, next to the giant.